Forsyth County, Georgia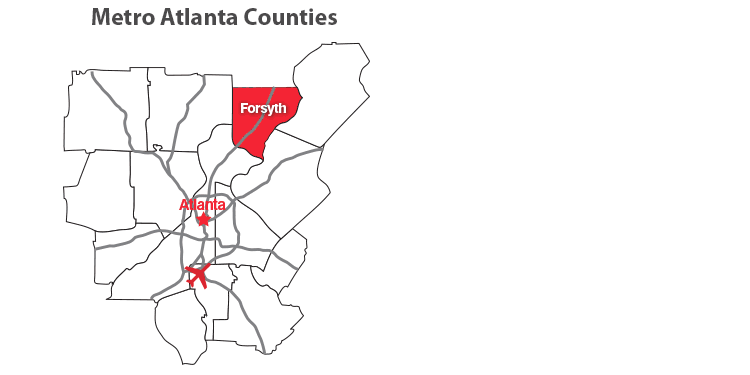 Forsyth County has been recognized as the 13th wealthiest county in the nation, as well as the seventh-fastest growing county nationwide by Forbes magazine, largely due to the 8,000-plus businesses in the community.
Major Employers:
Scientific Games International Inc.
Northside Hospital-Forsyth
Tyson Foods, Inc.
Siemens Industry, Inc.
Koch Foods
Walmart
Forsyth County Main Attractions
1. Sawnee Mountain Preserve

2. Cumming Fairgrounds

3. Cumming Aquatic Center and Water Park

4. Buford Dam
Forsyth County, Georgia Demographics
Familes & Kids
Families 81%
With Kids 44%
Median Age
39
Total Population
236,612
Male 117,349
Female 119,263
Forsyth County Area Cities
Cumming, the county seat of Forsyth, became one of metro Atlanta's most popular commuter towns upon the completion of Georgia State Route 400 and continues to experience impressive growth year after year, welcoming both new residents and businesses regularly.
Forsyth County Services & Contact
GAS SCANA Energy scanaenergy.com
Approved Natural Gas Marketers psc.state.ga.us, click "Natural Gas

PHONE/CABLE/INTERNET Xfinity/Comcast xfinity.com AT&T att.com
Spectrum
spectrum.com

WATER Forsyth County Water forsythco.com City of Cumming Water Department cummingutilities.com

ELECTRICITY Georgia Power Company georgiapower.com Sawnee EMC sawnee.com

DRIVER'S LICENSE 400 Aquatic Circle Cumming, GA 770-205-5402 Tuesday-Friday, 8 a.m.-6 p.m. Saturday, 8 a.m.-noon dds.ga.gov

TAG OFFICES 1092 Tribble Gap Road Cumming, GA 770-781-2110 1950 Sharon Road Cumming, GA 770-781-2110 forsythco.com

PARKS Forsyth County Parks & Recreation 770-781-2215 forsythco.com

GARBAGE Forsyth County Solid Waste 770-944-4974 forsythco.com

SCHOOL BUS ASSIGNMENTS Forsyth County Schools 770-888-1234

LIBRARIES Forsyth County Public Library forsythpl.org
Atlanta Georgia Metro Counties